FOSC TEAM HIGHLIGHT: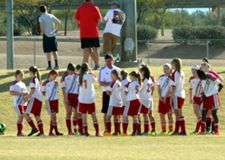 FEB 2014: FOSC's GU13 Red Premier competes in Phoenix, AZ PDT Tournament
FOSC's GU13 Red Premier team competed in the annual Presidents Day Tournament held by SC Del Sol from February 14-17 in Phoenix, AZ. The girls had a great experience on and off of the field as they played some of the top teams from different parts of the country and were treated to some great team building experiences.
The GU13 Red Premier "Red Rage" team went 2-1-1 in the "Red Premier Flight" for the weekend. The girls were victorious over the Washington state champs from Seattle and the #2 ranked team in Arizona and tied the Arizona state champs from Phoenix. The team's only loss during the event was a 2-0 loss to the Georgia state champs from Atlanta.
While in Arizona, the girls enjoyed some team-building outings: a visit to an old mining town, Tortilla Flats in Apache Junction, hiking Camelback mountain, a trip to the old ghost town of Jerome AZ, Slide Rock Park in Sedona, Zip-lining, and a visit to the Cincinnati Reds spring training.
FOSC Teams at the 2013 Spring Ohio South State Cup Tournament
FOSC would like to recognize the following teams on their performance representing the club in the 2013 Ohio South State Cup Tournament. Great work!
BU13 Red Premier
(Top 6 finish)
BU14 WC/FOSC Elite Red
BU18 Red Premier
GU15 Red Premier
(Top 8 finish)
GU16 Red Premier
(Final 4 finish)
GU17 Red Premier
(Top 8 finish)
MAY 2012: FOSC RED PREMIER GU15 "Red Swarm" State Cup Finalists

The GU15 Red Premier team finished with a record of 3-1-1 during their State Cup run, scoring 20 goals. The Red Swarm will travel to Saginaw, MI to compete in the Region II Tournament in June! Wish them luck as they represent Ohio South and FOSC.