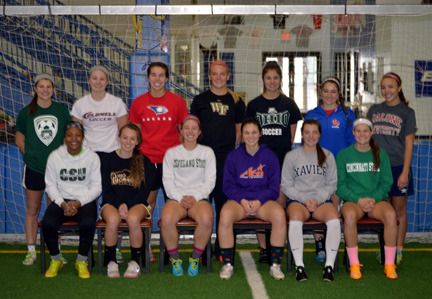 On Wednesday, February 4th 11 members of the FOSC GU18 Red Premier "Swarm" team signed their National Letters of Intent to continue their soccer careers at the college level.
Of the 11 players signing on Wednesday, seven will be playing at the Division 1 level and three at the Division 2 level. Two other members of the team that are currently juniors have already committed to play at the Division 1 level and will sign their Letters of Intent in February of 2016. The remaining two members of the team are currently finalizing their college plans.
Madi Kah who has played with the Swarm since the team was formed at U8 adds that "a lot of the credit has to go to our trainer Kurt Fischer. He worked very hard to prepare us to have this opportunity. He also spent so much time on the phone and in person talking to college coaches and helping each of us find the best college fit. As a team we can't thank Kurt enough!"
2015 Signees
Emily Calvani – Xavier University
McKenzie Chappell – Malone University
Holly Denny – University of Southern Indiana
Madi Kah – Ohio University
Morgan Langhammer – University of Evansville
Stacie Morris – Cleveland State University
Annika Pater – Eastern Kentucky University
Katie Ravenna – Wake Forest University
Danielle Ruffalo – University of Dayton
Evie Stepaniak – Cincinnati State University
Abby Tamm – Ohio Dominican University
2016 Verbal Commitments
Malia Berkely – Florida State University
Kayln "KK" Smith – Cleveland State University
Kurt Fischer – Trainer/Coach
FOSC GU18 Red Premier "Swarm" girls (as shown in photo above):

Front Row (left to right): KK Smith, Abby Tamm, Stacie Morris, Morgan Langhammer, Emily Calvani, Evie Stepaniak

Back Row (left to right): Kate Bach, Annika Pater, Holly Denny, Katie Ravenna, Madi Kah, Dani Ruffalo, McKenzie Chappell